Telecoms and Technology
Consultancy
PanOptic Technology offers expertise in examining and reporting on a wide range of IT and telecoms based services. Our experience allows us to act independently on the customer's behalf to inspect, advise, negotiate, provision and deliver on all aspects of your IT and Telecoms estate.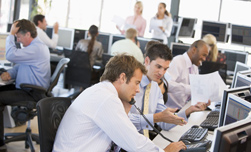 Trading Floor
Specialists
Through our decades of experience working within the finance market, PanOptic Technology provides a range of managed services specifically tailored for the Trading Floor. Our supplier agnostic approach allows us to propose the most suitable Voice Trading Platform to meet our clients' demands and budgets.
Combined with our ability to integrate between traditional TDM voice and our own leading edge SIP Trader Voice platform (www.siptrader.com), PanOptic Technology has a unique Trader Voice offering that is radically changing the Trader Voice Market.
Contact Us
If you would like to find out how we can improve your existing customer service and benefit from cost savings across all aspects of your current telephony, please contact us
Contact Us